Laptop Diagnostic Card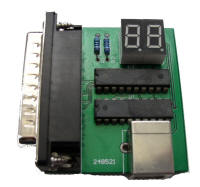 Brand New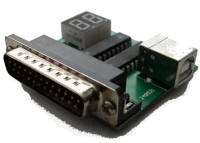 Motherboard Diagnostic Card, also known as a "POST Card" (Power On Self Test), is used to test & diagnose motherboard problems.
Notebook Diagnostic Card is a powerful diagnostic tool for technicians and administrators to troubleshoot various problems of compatible notebooks by using the 25 pin parallel printer port (LPT) and USB port (for power). It is easy to install with no need to open the computer case to use. With this card in hand, you no longer have to go through tedious and time consuming process of trying to figure out what is wrong with your hardware. Notebook Diagnostic Card will indicate exactly what is wrong with your notebook in just seconds. It can save time and money.

If your computer has problems powering up, freezes for long periods of time, suddenly shuts down unexpectedly or shows other signs of hardware problems - this card can diagnose your problem. It can even pinpoint problems you don't even know you have!
It can diagnosis the motherboard signal which show the problem of CPU, Memory, display card and so on.

LED displays shows diagnosis result of motherboard. Especially helpful to pinpoint where is the problem when power on the computer and find no display or machine hangs up.
Notebook LPT Card

15 page PDF manual

USB cable

The Notebook Diagnostic Card itself only requires a 25-pin parellel printer port and usb port/cable. It is not necessary to install memory chips to perform analysis. "POST Codes" can be displayed through the hexadecimal display panel. Not all laptops display post codes through the printer port - some use a miniPCI slot. Check with your laptop manufacturer to be sure.
Is it the CMOS battery or the memory? Or maybe the processor is toast? And how about the external cache? The Debug card will tell you instantly through a series of hexidecimal codes.